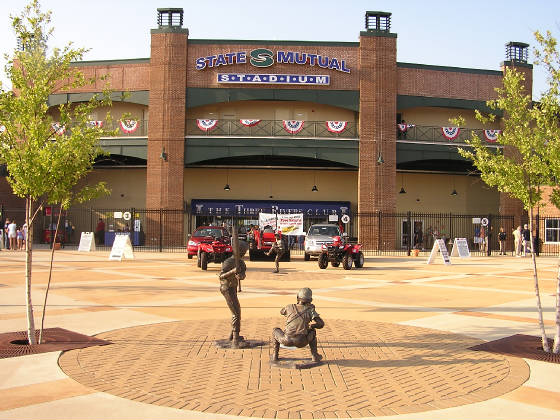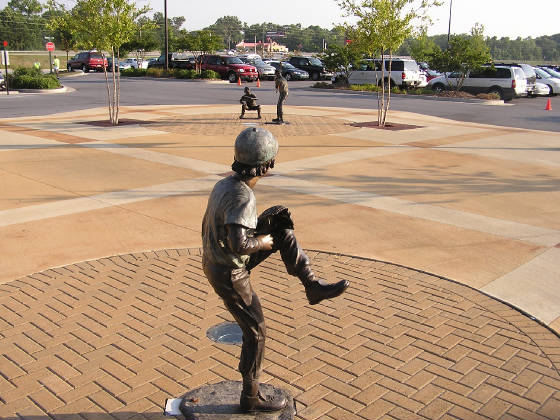 TEAM ::: ROME BRAVES
LOCATION ::: ROME, GEORGIA
MY FIRST VISIT ::: JULY 6, 2006
OPPONENT ::: SAVANNAH SAND GNATS
LEVEL ::: SOUTH ATLANTIC LEAGUE 'A'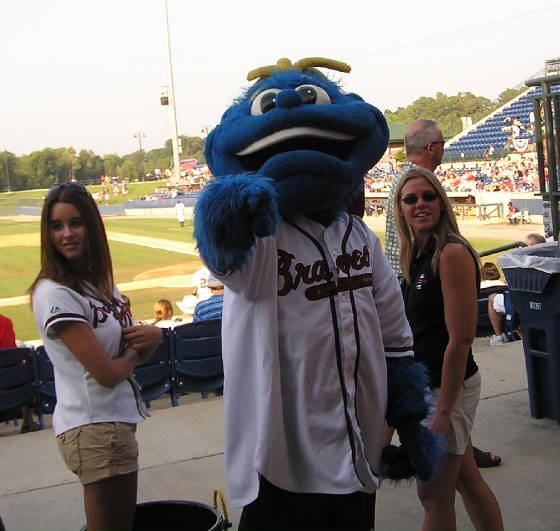 RATINGS

BALLFIELD ::: A
SCOREBOARD ::: A
FOOD ::: A
FACILITIES ::: A
MASCOT ::: A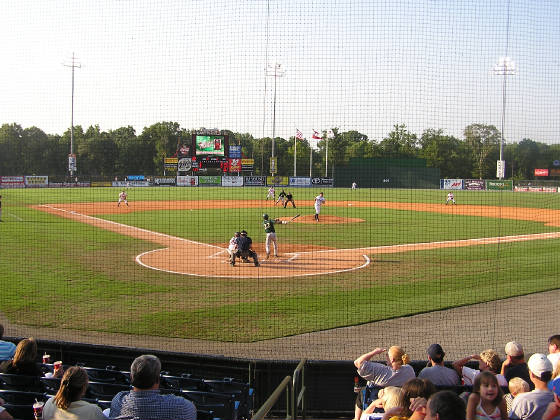 MY TAKE ON THE PARK
SET OFF THE MAIN ROAD IN AN OPEN FIELD SITS ROME'S STATE MUTUAL STADIUM. BECAUSE OF THE LOGO, I WAS EXPECTING COLUMNS OR SOME SORT OF ARCHITECTURE IN FRONT
OF THE PARK. WHAT IS THERE IS SO MUCH BETTER, A STATUE OF 3 KIDS PLAYING BALL. I ANTICIPATED A GIMMICK AND FOUND A TRUE BASEBALL WORK OF ART.
SADLY, ONCE PAST THIS CLASSIC STATUE, WHICH FOR WHAT EVER REASON YOU FIND YOURSELF WALKING AROUND AS TO NOT GET HIT BY A BALL, ROME'S STADIUM OFFERS LITTLE.
PAST THE TICKET TAKER, I WAS LOOKING FOR A GAME PROGRAM,
I'VE NEVER BEEN TO A GAME WHERE THE OPPORTUNITY TO TAKE MY MONEY WAS UNAVAILABLE. THE BRAVES RAN OUT OF PROGRAMS, BUT DID HAVE A PREVIOUS YEARS PROGRAM FOR ME FOR THE SAME PRICE, GEE THANKS. AT $1 I SHOULD NOT BE COMPLAINING THOUGH.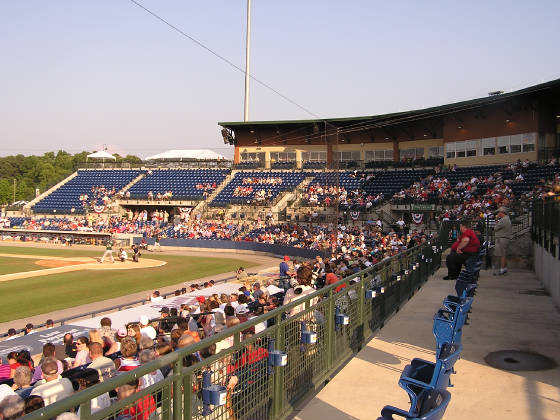 WALKING AROUND VERY NEW BRITAIN LIKE I FOUND THE ENTRANCE TO THE SEATING BOWL, VERY SIMILAR TO NEW BRITAIN EXCEPT THE AISLE WAY IS MUCH MORE NARROW.
ONCE YOU NAVIGATE YOUR WAY TO YOUR SEAT YOU SEE THE CUP HOLDERS AT ALL OF THE SEATS AND REALIZE, CONCESSIONS ARE AWAY FROM THE ACTION. NAVIGATE
YOUR WAY BACK DOWN TO THE CONCOURSE AND HEAD OVER TO THE FIRST BASE SIDE CONCESSION. THERE YOU CAN GET A HELMET OF NACHOS AND A LARGE SODA AT A VERY DECENT PRICE. CONSIDERING THE PEPPERS ARE HOT, THE SOUR CREAM IS COLD AND THE MEAT SAUCE IS GOOD, THIS IS A GREAT DEAL.
BACK TO THE SEAT, A GOOD LOOKING FIELD AND TWO SCOREBOARDS IN THE OUTFIELD WHICH WORK WITH EACH OTHER VERY WELL.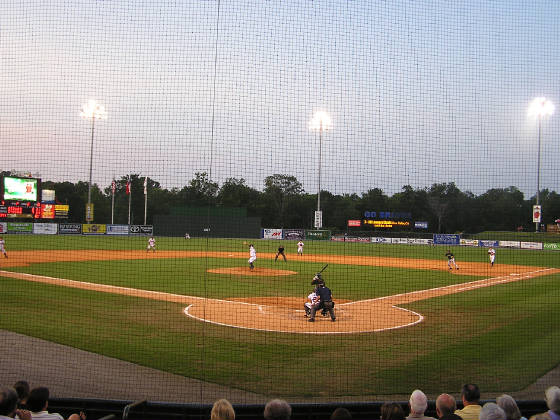 A TRIP TO ROME IS ONE THAT SHOULD BE TAKEN BEFORE GOING ON TO ATLANTA, SOMETIMES THE PARK YOU SEE AFTER THE MAJOR LEAGUE ONE GETS AN UNFAIR DEAL. YOU WILL NEED DIRECTIONS IF YOU ARE UNFAMILIAR WITH THE AREA, THE
ROME BRAVES DO NOT SEEM TO EXIST IN ROME DUE TO A LACK OF SIGNAGE. ONCE YOU FIND THE PARK, THE FAN IS REALLY CONSIDERED, THERE IS A TRAM IN THE PARKING LOT TO TAKE FAMILIES TO THE FRONT GATE, A GREAT FEATURE CONSIDERING THIS IS A DECENT SIZED LOT. ENJOY THE WIDE OPEN SPACES OF ROME, GEORGIA, ONCE IN ATLANTA YOU WILL DEFINITELY MISS THAT.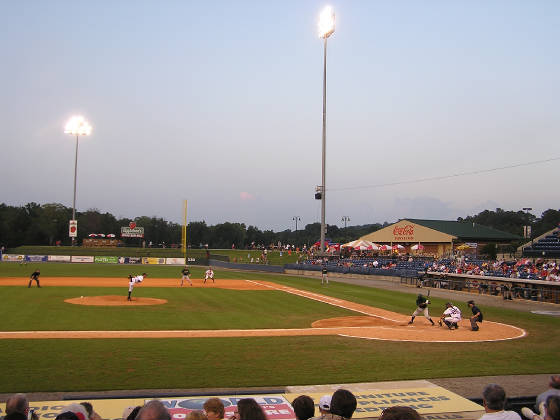 THE LINE UPS

SAVANNAH SAND GNATS MANAGER :::
9 Bobby Williams

ROME BRAVES MANAGER
12 Randy Ingle

SAVANNAH SAND GNATS

15 Francisco Plasencia cf
30 Alex Nunex 2b
33 Edgardo Baez rf
34 Scott Schade 1b
7 Leonard Davis 3b
23 Dee Brown lf
22 Reggie Fitzpatrick dh
28 John Poppert c
2 Jose Contreras ss
1 David Trahan p / LP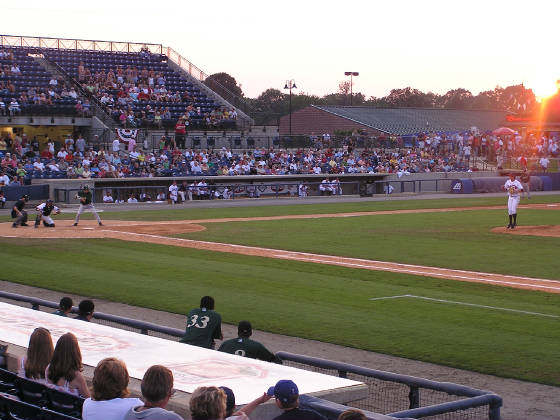 ROME BRAVES

8 Quentin Davis rf
24 Elvis Andrus ss
34 Eric Campbell 3b
25 Max Ramirez c
37 Manny Rodriguez dh
16 Josh Morris 1b
11 Jordan Schafer cf
4 Derrick Arnold 2b
2 Ovandy Suero lf
32 Dustin Evans p / WP
48 Jose Santiago S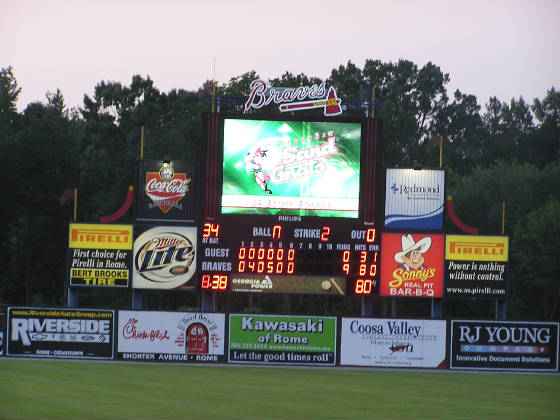 Sand Gnats 000 000 020 2 5 1
Braves 040 500 00x 9 10 0

Time ::: 2:25
Attendance ::: 3,095
Weather ::: 86 clear cool ..perfect weather


SEND ME AN E-MAIL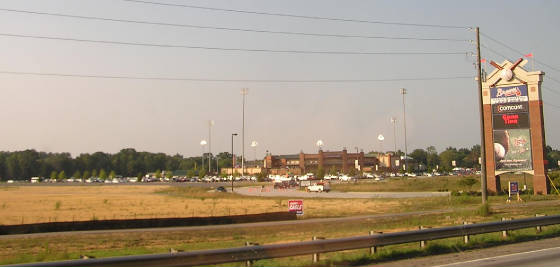 LINKS
The Official Rome Braves web site